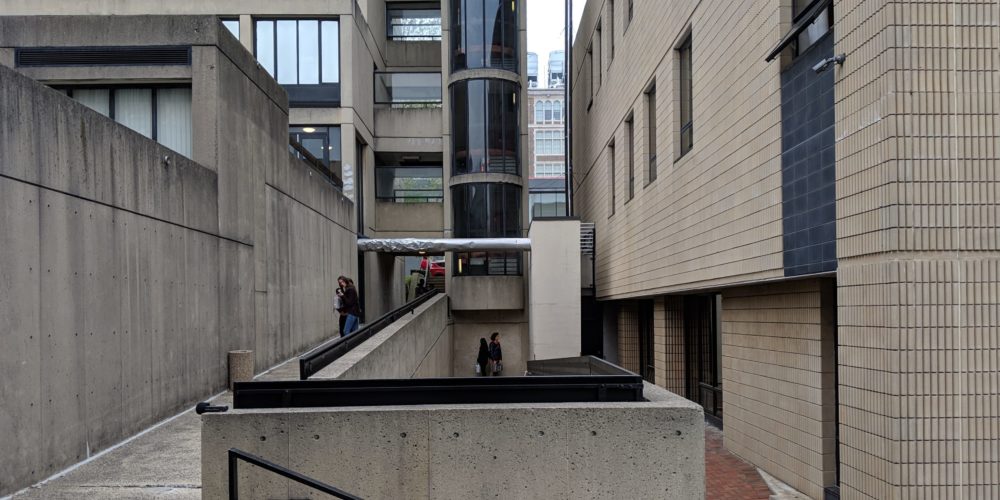 Events »

Andrew Demirjian » Sonic Cement
Events
May 3, 2019
Andrew Demirjian » Sonic Cement
May 3, 2019
Andrew Demirjian » Sonic Cement
3:00pm
Meet at the PRCC Foyer
Rutgers University-Newark
360 Dr Martin Luther King Jr Blvd.
Newark, NJ 07103

Free and Open to the Public
---
What is the soundscape of a utopian vision? Sonic Cement investigates relationships between sound, architecture and urban environments through a series of directed readings and collaborative engagements activating architectural space with sound.

Collaborating with award-winning media artist and MIT Open Doc Lab Fellow Andrew Demirjian, a group of students will perform a site-specific composition in the plaza between the Dana Library and the Robeson Campus Center, projecting sounds from the radios and boom boxes into surfaces of the buildings in a choreographed sequence of locations in the plaza.

About Andrew Demirjian
Andrew Demirjian is an interdisciplinary artist and professor; he is currently a Fellow at the MIT Open Documentary Lab working on an audio and computational text analysis project. He creates sound and text collages that examine the systems, typologies and language that construct consciousness and guide behavior. Drawing from conceptual art, experimental music and computer science he creates poetry and audiovisual compositions that take the form of interactive installations, generative artworks, live performances and single channel videos.
Andrew's work has been exhibited at The Museum of the Moving Image, Eyebeam, Rush Arts, the White Box gallery, the Fridman Gallery, Cyberfest, Fieldgate Gallery, the Center for Book Arts, The Newark Museum and many other galleries, festivals and museums. He is the author of Pan-terrestrial People's Anthem, a book of poetry and collection of music that remixes the lyrics and music of 195 national anthems. The MacDowell Colony, Puffin Foundation, Artslink, Harvestworks, Diapason, The Experimental Television Center, The Bemis Center, LMCC Swing Space, The Visual Studies Workshop and the New Jersey State Council on the Arts are among some of the organizations that have supported his work. Andrew teaches theory and production courses in emerging media in the Film and Media Department and the Integrated Media Arts MFA program at Hunter College. | http://www.andrewdemirjian.com
---