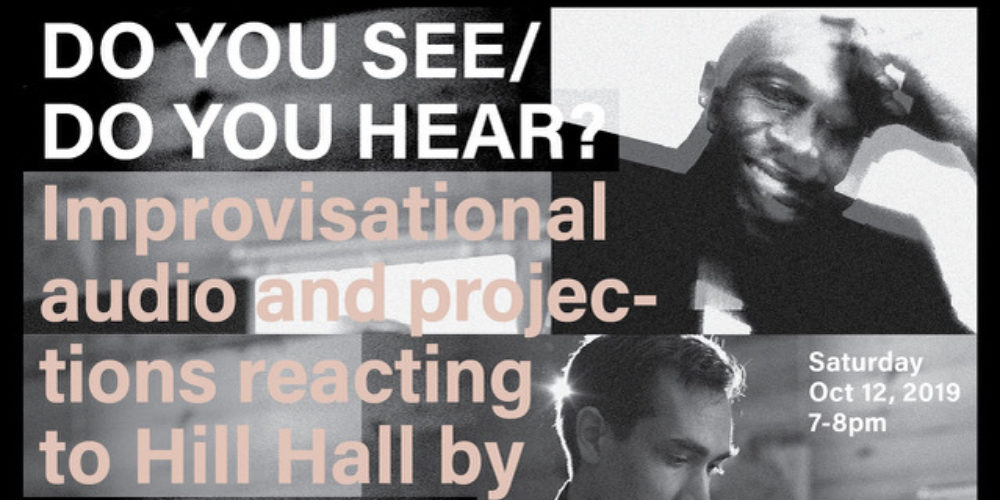 Events »

Do You See/Do You Hear?
Events
October 12, 2019
Do You See/Do You Hear?
October 12, 2019
Do You See/Do You Hear?
7:00pm
Hill Hall, ramps
Rutgers University-Newark
360 Dr Martin Luther King Jr Blvd.
Newark, NJ 07103

Free and Open to the Public
---
Do You See/Do You Hear? is a site-specific piece that uses projection and improvisational audio to react to the architecture of Hill Hall.
Conceptualized by noted electronic composers and performers, Jeff Snyder and Hprizm, Do You See/Do You Hear? is an ensemble performance presented in collaboration with Princeton University's pioneering Laptop Orchestra (PLOrk).
The student protest movement of the late 60's arose to demand free speech, inclusion and representation. As the national dialogue around pressing social issues evolved, the figurative and literal landscape was shifting rapidly. One thing that becomes apparent is the choice to see or not see.
Drawing inspiration from the particular history of protest at Rutgers University-Newark, noted electronic composers Jeff Snyder and HPRIZM present the Audio Visual composition entitled Do You See/Do You Hear? in collaboration with Princeton Laptop Orchestra (PLOrk).
About the performers
HPrizm is known for "Evoking images of Sun Ra and Africa Bambatta at once." (Jesse Sewer XLR8R Magazine) As the founding member of the critically acclaimed Antipop Consortium, Prizm has consistently challenged the boundaries of traditional hip-hop, winning the praise of tastemakers across the globe. In the course of his career, spanning over a decade, Prizm has performed alongside of or in collaboration with a diverse range of artists including: Wadada Leo Smith Jamaaladeen Tacuma, Anthony Braxton, Vijay Iyer, Mike Ladd, The Roots, Radiohead, Mos Def (Yasin Bey), Public Enemy and many others. Prizm (né: Kyle Austin) has also taught at William Paterson University and Drexel University. Prizm currently resides between Philadelphia/NYC.
Jeff Snyder is a composer, improviser and instrument-designer living in Princeton, New Jersey, and active in the New York City area. As founder and lead designer of Snyderphonics, Jeff designs and builds unusual electronic musical instruments. His creations include the Manta, which is played by over 150 musicians around the world; the JD-1 Keyboard/Sequencer, which was commissioned as a specialty controller for Buchla synthesizers; and the custom analog modular synthesizer on which he regularly performs. Jeff is a member of experimental electronic duo exclusiveOr, avant jazz group The Federico Ughi Quartet, improvisatory noise trio The Mizries, and laptop ensemble Sideband. He fronts the band Owen Lake and the Tragic Loves as his electro-country alter-ego, Owen Lake. He also composes alternate-reality Early Music for an ensemble of his invented instruments. In 2009, Jeff co-founded an experimental music record label, Carrier Records, which continues to release strange and exciting experimental music. In 2011, he received a doctorate with distinction in Music Composition from Columbia University. He currently is the Director of Electronic Music at Princeton University, and the Director of PLOrk, the Princeton Laptop Orchestra.
The Princeton Laptop Orchestra, or PLOrk, first performing in 2006, takes the traditional model of the orchestra and reinvents it for the 21st century. Each laptopist performs with a laptop and custom designed hemispherical speaker that emulates the way traditional orchestral instruments cast their sound in space. Wireless networking and video augment the familiar role of the conductor, suggesting unprecedented ways of organizing large ensembles. Originally founded by Dan Trueman and Perry Cook, the group is currently directed by composer and instrument designer Jeff Snyder and features new electronic instruments that arise from his research. Assisting in leadership of the group are Jason Treuting (Associate Director) and Mike Mulshine (Assistant Director). Performers and composers who have worked with PLOrk include Zakir Hussain, Pauline Oliveros, Matmos, So Percussion, the American Composers Orchestra, and others. In the past 11 years, PLOrk has performed widely—presented by Carnegie Hall, the Northwestern Spring Festival in Chicago, the American Academy of Sciences in DC, the Kitchen (NYC), 92Y and others—and has inspired the formation of laptop orchestras across the world, from Oslo to Bangkok.
---