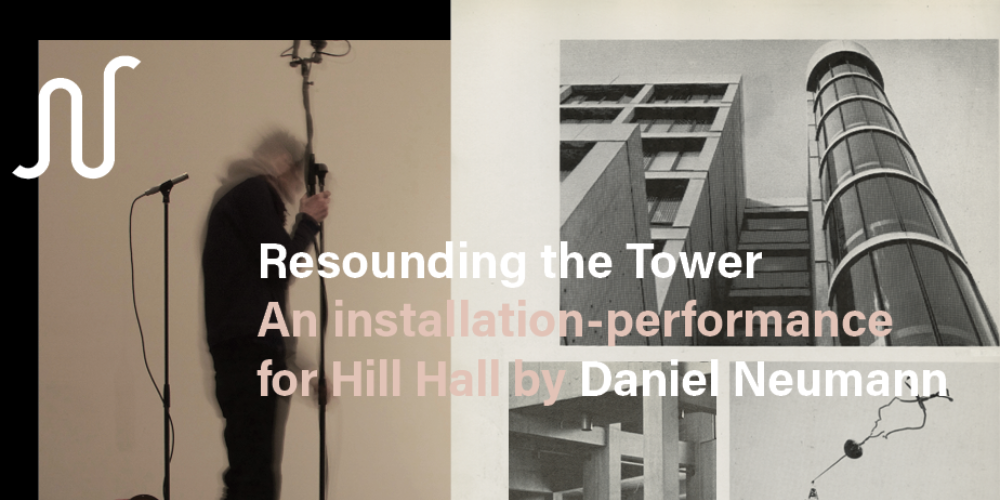 Events »

Daniel Neumann » Resounding the Tower
Events
June 30, 2019
Daniel Neumann » Resounding the Tower
June 30, 2019
Daniel Neumann » Resounding the Tower
2:30pm
Hill Hall, ramps
Rutgers University-Newark
360 Dr Martin Luther King Jr Blvd.
Newark, NJ 07103

Free and Open to the Public
---
Schedule
2:30pm - 3:00pm - Sound Installation in Hill Hall
3:00pm - 4:30pm - Introduction + Performance by Daniel Neumann
4:30pm - 6:00pm - Artist talk, Q&A + Light Refreshments
---
"Inventively known as the 'New' building by the officials of the University, this monument to Buck Rodgers memorabilia features a nine-story rocket poised to take off above the proposed Campus Center snack bar addition. The rocket is cleverly disguised as a stairway…" —Encore Yearbook, 1971
The Rutgers University-Newark campus is a landmark of mid-century modernist design, and among other buildings, it includes Hill Hall—a Brutalist monument designed by Robert L. Geddes. From the beginning, its now-closed external stairwell invited speculation and mystification, since it was, and in some ways still is, an alien structure in downtown Newark.
Now, 50 years later, the tower is sitting there as a layered, inaccessible enigma that Daniel Neumann will activate sonically from inside. He will use the tower as a large vertical filter, playing sounds into it, and picking up the acoustic responses with various microphones at different heights and placements. Then the tower's aural responses will be mapped in real time to the horizontal structure of the building's internal concrete ramps—another prominent structural feature of Hill Hall. The multichannel installation-performance on the ramps explores questions such as: Will verticality become audible? How does sound double as a physical and imaginative phenomenon? Is the rocket finally taking off? Does listening function as productive action towards the sonorous? And, which floor are we on?

About Daniel Neumann
Daniel Neumann is a Brooklyn-based sound artist, organizer and audio engineer originally from Germany. A main focus throughout these different occupations is how sound interacts with space and how spatial perception can be shaped by sound. He holds a masters degree in media art from the HGB Leipzig and also studied electronic music composition. In his artistic practice he is working in hybrid installation-performance formats. He understands sound as an intersubjective field, enabled and expanded by audio procedures. His works have been presented at Fridman Gallery, TEA Tenerife, Moss Arts Center VA, Sinne Gallery Helsinki, Pinacoteca Bellas Artes Manizales Colombia, AMEE Madrid/Valencia, Loop Barcelona; Fergus McCaffrey, MoMA PS1, MoMI, Knockdown Center, Storefront for Art and Architecture, Pratt Institute, Eyebeam, Diapason Gallery, Sculpture Center, Hunter College in New York; Eigen & Art Gallery Leipzig, Skolska28 Prague, Lothringer13 Munich and more.
Curatorially he runs an event series in New York City [CT::SWaM] that engages in spatial sound works and focussed listening. And as an audio engineer, he has been working e.g. for Stockhausen's Oktophonie performances at the Park Avenue Armory (2012); at MoMA PS1 (2013-2016), David Guetta (2014-2018), and acoustic designer of The World Is Sound at the Rubin Museum (2017). He currently works for Diamanda Galás, Oneohtrix Point Never, Blank Forms, Alarm Will Sound and is sound projectionist for Maryanne Amacher's Adjacencies. | http://danielneumann.org
---